Click portfolio title header above to return to main portfolio view. Scroll down-screen to see Artwork Info. "Contact" link is in upper Main Navigation Menu. Click on image to expand, click again to minimize.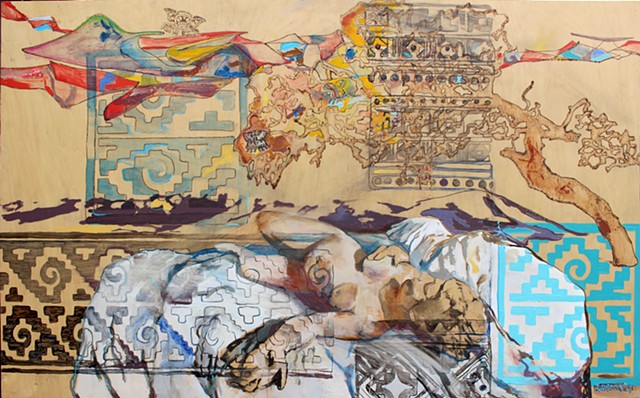 Babes In rainbowland or Conversations With The Ancestors
oil, acrylic, color pencil, collage, varnish, pyrography on fsc certified sustainably harvested rock maple panel
48.5" x 29"
2021
This incredible work pulls out all of Jordan's favorite stops--masterly handling of the figure, mythical intonations, playful improvisations with color and pattern, a relentless investigation in to the possibilities of the analogue surface using mixed media to reference the multi-valent multi-verse of the digital-aged imagination. With references to both Street Art and the old Spanish masters that he spent his formative years studying in the Museo del Prado in Madrid, Quintero brings together twenty years experience in image making to deliver this masterly tour-de-force.